My strategy to rattle Kazakhstan worked, because no sooner had I made these changes than I imagined the Kazakhstan coach saying "It ees not fair.  You cannot hev a goalie who is Jason." 

"I'll show you unfair," I said, and immediately traded Kazakhstan's somewhat competent goalie for reactionary crybaby Noam Chomsky, who I'm sure would be thrilled to play on their side.
| | |
| --- | --- |
| Before | After |
Unlike Jason, nobody cares enough about Noam Chomsky to put his vital statistics on a website, so I had to guess at his height, weight, birthplace, and eye color.  I ended up making him a small man with absolutely no hockey skills.
Kazakhstan was furious.  I told them keep jabbering if they wanted to welcome Left Wing Susan Sontag to their team, and then they shut up.  With that, the game was ready to begin.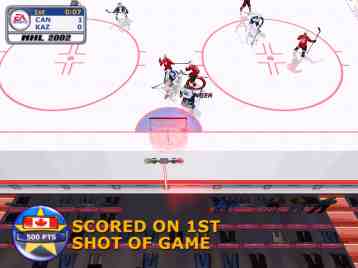 Seven seconds into the first period, Operation Infinite Goal's Chris Pronger scored on the first shot of the game.  Careful planning combined with an unquenchable thirst for vengeance insured that the goals would continue unabated.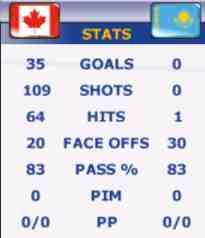 At the end of the first period, we were winning 35 to nothing and had allowed no shots on goal.  It was time to ratchet up the humiliation.  As period two started, I pulled Jason; We would beat these Muslims without our deadly, invincible goalie.  It was at this point that tragedy struck.  As I was briefly distracted taking a screenshot of Jason skating off the ice, Kazakhstan decided to implement a Jihad against the rules of good sportmanship and scored on the empty net.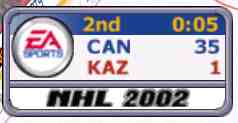 At 35 to 1, we were in danger of falling apart completely.  It was here that we as Team USA as portrayed by Team Canada faced our toughest challenge: ourselves and our own fears.  Could we come together as a team, rally, and go on to win the game? 
So that we're not here all day, the answer is yes.  That was the last goal Kazakhstan would ever get, while our goal scoring escalated after I found some other sliders that made the game even easier.  The final score was 198 to 1.  At the end, we told Kazakhstan good job on that one goal even though it was pretty cheap if you think about it.  Then we stood arm-in-arm and said let's sing John Lennon's Imagine, because we're all black with the lights out, and the Kazakhstan players started to cry and told us sure, let's do that.  And for a few moments, the world truly did seem as one.   Until I changed all the words to Imagine, making it explicitly pro-America.   God Bless America and God help us all.